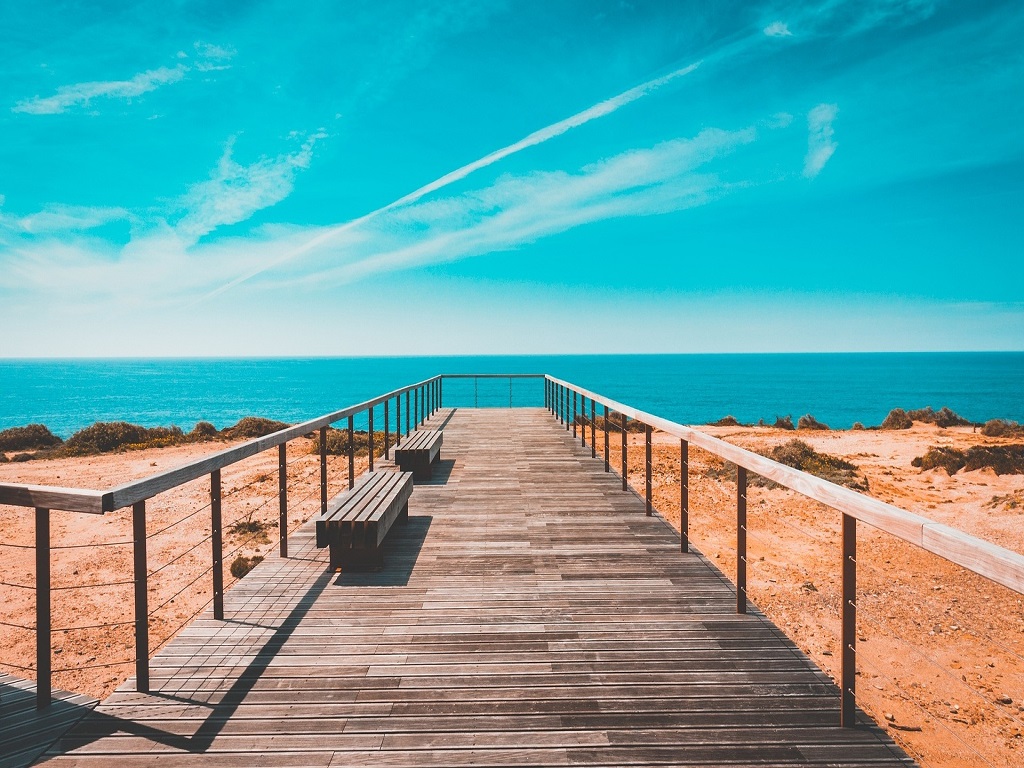 Is its year-round mild climate with over 300 days of sunshine per year, cyclists can enjoy riding on the roads even during the winter months. The region's warm temperatures and minimal rainfall make it an ideal destination for those seeking an extended cycling season or a winter training camp.
The Algarve boasts a diverse range of landscapes, from the dramatic cliffs and golden beaches of the coastline to the rolling hills and quaint villages of the interior. Cyclists can choose from a variety of routes that take them through these different terrains, providing an ever-changing and captivating backdrop for their rides. The coastal roads offer stunning views of the Atlantic Ocean, while the inland routes lead cyclists through scenic countryside, vineyards, and orange groves.
One of the most popular cycling routes in the Algarve is the Ecovia do Litoral, a 214-kilometer cycling path that stretches along the entire length of the Algarve coastline. The Ecovia do Litoral is well-marked and mostly flat, making it suitable for cyclists of all levels. It takes riders through charming fishing villages, past breath taking cliffs, and along picturesque beaches, allowing them to soak in the beauty of the Algarve at their own pace.
For those seeking more challenging rides, the Algarve offers a range of mountainous routes. The Serra de Monchique, a mountain range located in the western part of the region, provides cyclists with steep ascents and thrilling descents. The winding roads of the Serra de Monchique offer breath taking views of the surrounding landscape, making it a favorite among experienced riders looking for a demanding and rewarding cycling experience.
The Algarve is also home to numerous cycling events and races, attracting both local and international participants. The Volta ao Algarve, a prestigious professional road cycling race, takes place annually in February and showcases the region's stunning landscapes to a global audience. Amateur cyclists can also participate in Granfondo events, which offer the opportunity to ride on closed roads and experience the thrill of a race atmosphere.
In addition to its natural beauty and diverse terrain, the Algarve boasts excellent cycling infrastructure. The region has a well-developed network of cycling paths, bike-friendly accommodations, and bike rental services. Cyclists can easily find bike shops for repairs or purchase any necessary equipment. Furthermore, the Algarve's roads are generally well-maintained and offer a good level of safety for cyclists.
When it comes to off-the-bike experiences, the Algarve has plenty to offer. The region is renowned for its fresh seafood, traditional cuisine, and world-class wines. After a long day of cycling, riders can indulge in local delicacies at charming coastal restaurants or visit vineyards in the interior for wine tasting sessions. The Algarve is also home to several cultural and historical attractions, including ancient castles, museums, and charming old towns, providing cyclists with opportunities to immerse themselves in the rich Portuguese heritage.
Joining local cycling clubs or guided tours can enhance the cycling experience by providing opportunities to meet fellow enthusiasts, discover hidden gems, and receive guidance from experienced riders familiar with the Algarve's cycling routes.
When planning a cycling trip to the Algarve, it's important to consider the best time to visit. While the region offers mild weather year-round, the spring and autumn months are particularly pleasant for cycling, with comfortable temperatures and fewer tourists compared to the peak summer season. However, if you're seeking warmer weather and don't mind a bit more traffic on the roads, the summer months can still provide an enjoyable cycling experience.
Accommodation options in the Algarve cater to cyclists, with many hotels and guesthouses offering bike storage facilities, repair services, and even organized cycling packages. Staying in popular towns such as Lagos, Albufeira, or Faro allows easy access to a variety of cycling routes and amenities.
Safety should always be a priority when cycling in any location. It's crucial to follow traffic rules, wear appropriate safety gear, and be aware of the road conditions. Additionally, it's advisable to carry basic tools, a spare tube, and a pump or CO2 cartridge in case of any mechanical issues.
Exploring the Algarve on two wheels offers a unique perspective that allows you to fully immerse yourself in the region's natural beauty, cultural heritage, and vibrant atmosphere. Whether you're a seasoned cyclist seeking challenging routes or a leisurely rider looking to enjoy scenic landscapes, the Algarve has something for everyone.
From the stunning coastal roads to the enchanting countryside, the Algarve's diverse terrain promises unforgettable cycling experiences. So grab your bike, explore the Algarve's cycling routes, indulge in its culinary delights, and create lasting memories in this picturesque part of Portugal. Cycling in the Algarve is an adventure that combines physical activity, breath taking views, and cultural exploration, making it an ideal destination for cycling enthusiasts from around the world.
In conclusion, cycling in the Algarve, Portugal offers an incredible experience for riders of all levels. With its breath taking landscapes, diverse terrain, favorable climate, and excellent cycling infrastructure, the region is a true paradise for cyclists. Whether you prefer coastal roads, mountainous routes, or leisurely rides through charming villages, the Algarve has it all. So hop on your bike, explore the beauty of the Algarve, and create unforgettable cycling memories in this picturesque corner of Portugal.