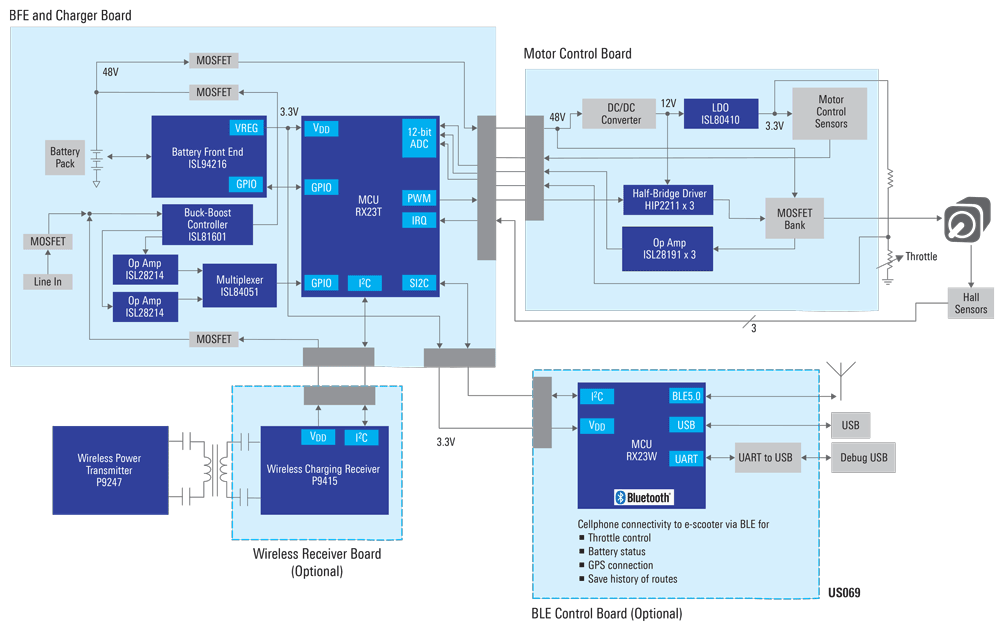 There is more demand than ever for e-bikes, scooters, and the like. With that increase in demand comes an increased demand for new developments. Renesas stepped up to the plate and pushed for further development of these technologies by releasing a 48 V mobility solution.
Renesas believe their new reference design can help customers to create new and exciting designs faster and have them pushed to market more quickly.
Why Use 48 Volts?
The choice to use 48 volts was a deliberate one. 12 volts was the old standard for distributing power with many applications. However, many devices these days – from power drills to bikes – demand greater power levels. This increased demand for power has made I2R losses more significant. Engineers adopted 48 volts as the new industry standard to combat this problem.
Using the same level of power for creating 48 volts compared to 12 volts generates 16-times less I2R losses – which is undoubtedly much more efficient. Given that e-bikes often require plenty of power to motors in machines to get the torque needed, 48 V became the new standard for many bike designs.
The Reference Design
Renesas worked with the new standard to create their new mobility solution for e-bikes designed for 48V.
The reference design takes a modular design approach to create core blocks and optional functional blocks for use with a variety of 24-48V solutions. The design uses 15 different ICs to deliver the incredible results it offers.
The Core Blocks
The new system uses two core function blocks alongside two additional optional blocks. The core blocks house the battery front end and the control board for the motor. The two other blocks are a wireless charging receiver board and a Bluetooth control board for wireless technology.
The battery front end offers over 200 mA external cell balancing. Renesas says that the cell balancing will allow for the solution to charge faster and make it easier for big battery packs to utilize all their power correctly.
The motor control board for the system supports a battery pack up to 48V and reaches speeds of up to 5,000RPM with a 1,600-watt inverter powertrain.
Made for Mobility
One thing to know about this new solution is that it has been purpose-built for mobility. Renesas hopes to use the solution to help customers develop mobility solutions such as e-bikes and e-scooters. The company says that the solution was designed to be used with things such as electric carts, lawnmowers, power banks, power tools, and more. The new solution isn't built specifically for mobility, but it is sure to mean big things for the industry.
The aim of the 48V mobility solution is to expedite development of mobility solutions, including high-powered e-bikes and e-scooters. These devices will help people get around faster and restore a sense of normalcy and independence for disabled users with mobility issues.
System block diagram. Image used courtesy of Renesas